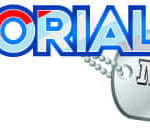 PIKE COUNTY, Mo. — The annual events marking Memorial Day in Bowling Green and Louisiana have been canceled for this year.
Announcements were made this week pointing to the threat of the spread of COVID-19. In years past, events were organized by Bowling Green VFW Post 5553 and the Louisiana American Legion Post 370.
In Bowling Green the parade has traditionally started at the war memorial on the square and continued into Memorial Gardens Cemetery. Local civic organizations would take part in a brief ceremony that included a keynote speaker and salute by the VFW Honor Guard.
A similar event has traditionally been held in Louisiana at the American Legion. In addition to a speaker, local civic organizations placed wreaths, concluding with a salute to those who have died while serving n the military.
Memorial Day is Monday, May 25 this year. Tune to KJFM Radio for more on this and find more local news online at kjfmeagle102.net.