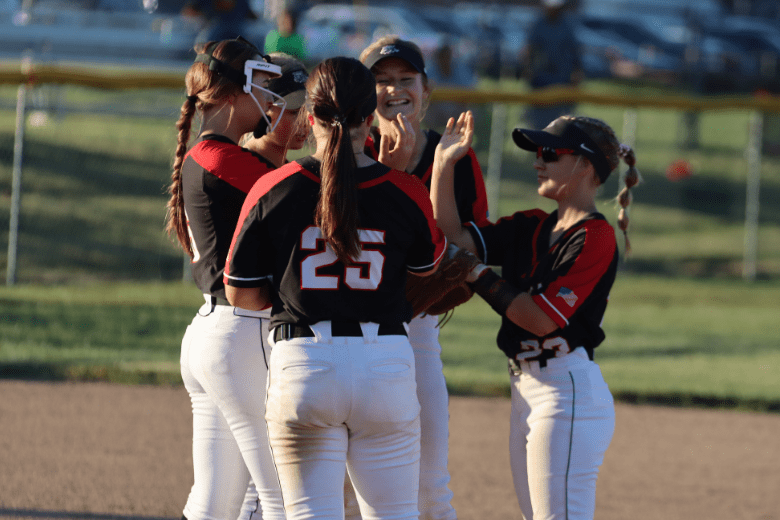 FULTON, Mo.– Bowling Green was defeated by Winfield 2-0 in the opening round of the Class 3 District 6 tournament to put an end to the Lady Cats season. This was the first time Bowling Green faced their former head coach Dean Streed and, unfortunately, it didn't go in favor of the Lady Cats.
Both teams were strong on the rubber Tuesday evening, but Winfield was just a little bit stronger offensively. Winfield started every inning with the lead-off batter on base. The Lady Warrior's approach at the plate added pressure to the Bowling Green defense and the Lady Cats struggled to recover.
Winfield led off the fourth inning with Camille Martin on first base after a fly ball popped out of the glove of Kaelynn Wommack at shortstop. A one-out single from Chloe Wehde turned into an extra-base and a run for the Lady Warriors after a throwing error from centerfielder Gracie Deters.
Errors plagued the Lady Cats again in the sixth inning. A single from Maggie Jordan led off the top of the sixth inning and Bowling Green's Craig Smith made the decision to pull Tanner Turner. Turner moved to shortstop and sophomore Megan Graver toed the rubber. A stolen base and dropped third strike put runners at the corners with two outs. An error from Lily Bowen behind the plate allowed Winfield to score before Graver could secure out number three.
Down 2-0 in the bottom of the seventh inning, Bowling Green's backs were against the wall. Sydney Charlton started off the inning with a single to give the Lady Cats some life. Emma Dixon and the Winfield defense buckled down to record three routine outs. Dixon left Charlton stranded at second base to put an end to the threat, and an end to the Lady Cats season.
Highlights from Bowling Green came from sophomores Lily Bowen and Avery Gamm. Bowen was one for three at the plate with a single to right field in the home half of the third. Avery Gamm hit a double down the right-field line in the bottom of the fourth, and a single in the bottom of the sixth.
Senior pitcher Tanner Turner took the loss for Bowling Green. Turner allowed two runs on three hits and recorded nine strikeouts. Graver showed promise for Bowling Green's future in her two innings of work. The sophomore allowed one hit and recorded five strikeouts.
Bowling Green's 2021 season is in the books as the team did not advance. Silex, Clopton, Elsberry, Van-Far, Louisiana, and Mark Twain remain on the hunt for a district title. Find coverage of area high school sports by staying tuned to 102.1FM, by listening to Eagle 102 through the KJFM Radio app, online at kjfmradio.com or through Alexa.