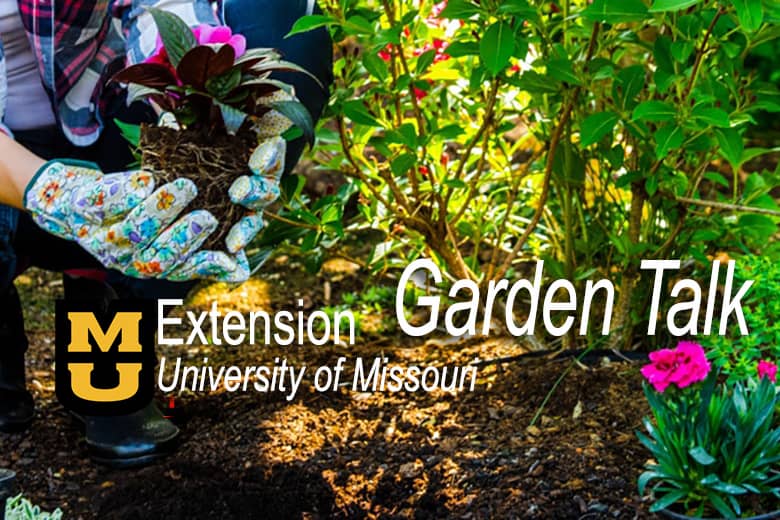 KJFM NEWS — Garden Talk is produced monthly at the Adair County University of Missouri Extension Center in Kirksville, Mo.
YOU COULD BE YOUR TREE'S WORST ENEMY . . . Are your trees suffering from lawn mower or weed-trimmer damage?  Each time you mow or use the weed-trimmer and you hit the trunk of a tree, you are sending the tree into decline. Each year thousands of trees are damaged or killed by careless mowing or trimming. Often this damage occurs to "park" trees. This damage can be avoided when lawn mowing equipment is operated responsibly around trees.
Trees do not regenerate new tissue like humans when a wound occurs. Most tree injuries occur when mower operators attempt to closely trim grass around trunks with a push or riding mower. Prevent this from happening by removing the grass around the tree, or by hand trimming.  Grass and weeds should be removed from around tree trunks and beneath trees if maximum growth is expected. Grass and weeds compete for the same nutrients and water that the tree needs. During the summer when rainfall is low and less than adequate watering occurs, the competition for water imposed by weeds or grass turf can substantially reduce tree growth. When competition from grass is eliminated, tree roots are more evenly distributed, root numbers are higher and they utilize a larger volume of soil. Effective utilization of soil by a larger root system will mean that the fertilizer you have added will be utilized more fully.

Spreading mulch such as leaves, grass clippings or straw under and around trees will effectively control grass and weeds and provide an attractive appearance around the base of the tree. Not only will mulching with organic materials prevent grass competition, it will also conserve moisture for use by the tree roots and stabilize soil temperatures (since roots don't like extremely hot or cold soils). Young trees should be surrounded with a 3 feet diameter, thick mulch (3 to 4 inches deep) that is maintained throughout the growing season. A loose fitting, white corrugated tube can be place around the trees for added protection.
Most people do not understand that injury and infection started by lawnmower wounds can often be the most serious threat to tree health. Tree wounds caused by lawn maintenance equipment are often the cause of internal decay and rot found in older trees that survived initial damage years ago. Decay fungi becomes active on the wound surface and structural deterioration of the woody tissues beneath the wound will often occur. Many wounded trees that are not girdled may eventually break off at the stem or root collar due to internal decay.
A mulched area around the tree trunk can provide protection from these types of tree-damaging behavior. Nine times out of 10, when I look at a dying tree in a park, University campus or home yard, the tree is suffering from the effects of mower/weed trimmer injury or Southwest Injury, a type of winter damage.
If you want your trees to live a long time, don't abuse them with weed-trimmers and lawnmowers!