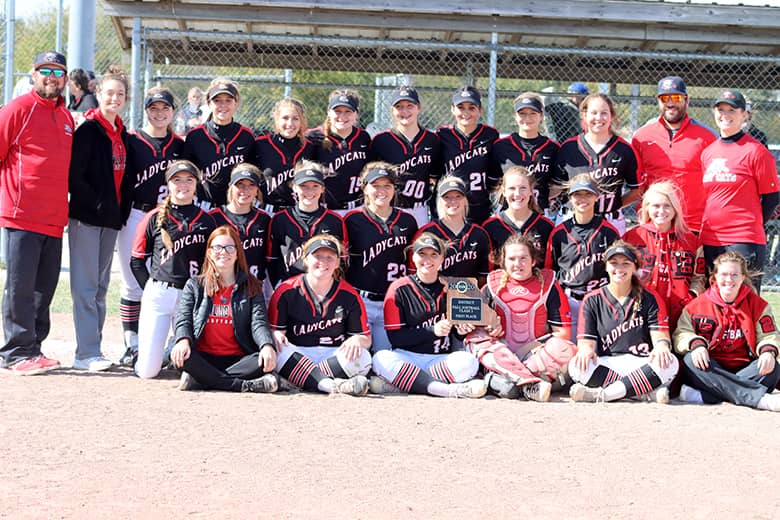 MONTGOMERY COUNTY, Mo. — Bowling Green defeated Winfield 9-2 on Saturday, clinching the Class 3 District 2 title. Hot bats and errorless defense allowed the 'Cats to gain control of the game early, leading the team to victory.
Kennedy Grimsley lead off the bottom of the first inning for Bowling Green with a double, immediately putting pressure on Winfield's defense. Senior Jade Meier collected an RBI as Grimsley advanced on a ground ball to the shortstop. Veteran catcher Grace Dameron unleashed on a pitch, picking up another run for Bowling Green with a solo homerun over the left field fence.
"Grimsley was kind of struggling before I moved her up to the one hole. She was hitting balls hard but right at people and not really finding holes. These past couple weeks in the one hole she has come up big, she is getting on base and setting the table up for us," said Coach Craig Smith.
Scoring again in the third inning, Meier added two runs to Bowling Green's lead with a deep two-run homerun.
Dameron's bat was on fire in the match-up, hitting a three-run homerun in the fifth inning providing some insurance for the red and black late in the game.
"Meier and Dameron's homeruns were shots. I was really proud of the adjustments the girls made on the slower pitching that we were expecting from Winfield's pitchers" added Smith.
Picking up the win on the rubber for Bowling Green was ace Tanner Turner. Turner gave up two runs on four hits and had eleven strike outs on the day. Getting her team out of some tough bases loaded situations, Turner was strong on the mound for the Lady 'Cats.
"It is huge to have a pitcher who can get you out of jams with strikeouts. She will be on the mound for us Wednesday in our Quarterfinal game" added Smith.
Bowling Green will face Perryville at home on Wednesday night with first pitch set for 5 p.m. Bowling Green asks that fans in attendance wear white for a white-out game. If Bowling Green wins on Wednesday night, the team will advance to the final four.
Reminder you can always find a full recap of scores on the Scoreboard page at kjfmradio.com.