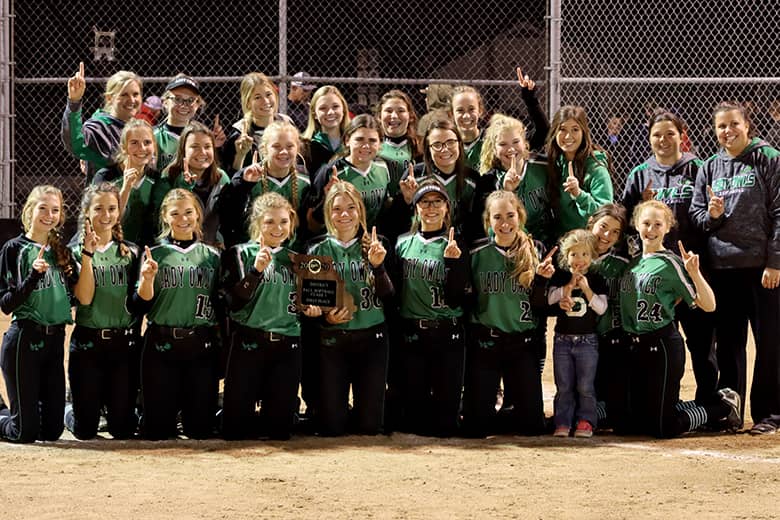 LADDONIA, Mo. — The Silex Lady Owls were victorious on Friday night, defeating the Community R-VI Lady Trojans 13-4 in seven innings. Silex claimed the Class 1 District 8 title, advancing the team in their race for a state title.
Battling the Lady Trojans earlier in the season, the Lady Owls scraped by with a 6-4 win. After not playing for a week due to forfeits within the district, Silex relied on intense practices to prepare them for the championship game.
"We had a pretty good idea of what (Emma) Angel was going to do to our offense, and we worked really hard in practice to prepare our girls defensively by putting a lot of pressure on our defense," said head coach Rebecca Lipsey.
Community R-VI jumped on top first, scoring four runs in the top of third inning after stringing together timely hits. Silex was quick to respond, scoring three runs in the bottom of the third inning on hits from Sarah Weatherford, Taylor Howard, Gwen Gilbert, Lexi Plackemeier, and Tori Mudd.
"The girls were focused. They knew they could come back and score runs. We have come from behind many times this season, they knew they had to put the ball in play and put the pressure on their opponent," said Coach Lipsey.
Scoring a run in the fourth inning off a single from Carson Harlan, Silex tied up the game at 4-4 going into the fifth inning. The Owls had gained momentum in the fifth inning sieging control of the game.
In the bottom of the fifth inning the Lady Owls offense exploded, batting around and scoring eight runs. Silex hit the ball with force and found holes in Community's defense to compile the load of runs that would lead them to victory.
Howard was tough on the mound for the Lady Owls, putting an end to the Lady Trojan's offensive momentum late in the game.  Earning the victory in the circle, Howard allowed seven hits and four runs in the seven-inning game. She also recorded seven strikeouts on the night, one of the strikeouts being the final out of the game. An overjoyed pitcher catcher duo, Howard and catcher Sara Grateke jumped and hugged celebrating their big win after recording the final out.
Silex will host the winner of District 7 on Wednesday in state sectionals with a start time to be determined.
"I feel very confident in our team, but we still have to take this game one pitch at a time, one play at a time. As long as we stay focused in the box and on defense, we should have a pretty good shot at winning," added Coach Lipsey.
Reminder you can always find a full recap of scores on the Scoreboard page at kjfmradio.com.