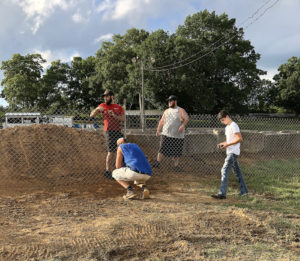 PIKE COUNTY, Mo. — With opening day less than a week away, many volunteer fair board members, along with friends and family, get the grounds ready for this year's Pike County Fair running July 28-Aug. 1.
Even though most area fairs opted to cancel this year's event, board members of the Pike County Fair Association felt they would like to move forward and give people the choice as to whether they would like to attend or not. Each year, board members put in hundreds of hours of work getting the grounds ready for the week long event and this a few extra steps are being taken because of COVID-19.
When you walk to the front gate, you'll notice the plexiglass around the cashiers and hand sanitizing stations will be spread throughout the grounds. Additionally, on the bleachers, seats will be marked for social distancing. As far as the carnival goes, rides will be sanitized regularly and carnival management will be monitoring their employees, most who have been on the grounds since Monday, July 20, to keep track of their temperatures.
A few other changes fair goers will notice is there will be no nightly meal specials. The food stand will still have area favorites including Pepsi products, however this year all sodas will be served in the 20 ounce bottles. Additional soda vending machines have also been scattered throughout the grounds allowing folks to grab a soda without standing in line.
Some changes had to be made for safety precautions, others had to be made because of the volunteer shortage the week of the fair. For many years, several area businesses and individuals have stepped up to help man the food stand, bloomin' onion stand and help park cars. This year those numbers have declined. If you, your business or organization would like to volunteer a few hours at this year's fair, reach out to Sherry McCarty at 573-470-0325 or KJFM Radio and they'll point you in the right direction.
Even though some changes had to be made because of COVID-19, the main events are set to be a strong as ever. On Tuesday, the Outlaw/5J Rodeo is expecting over 125 contestants; Wednesday's truck and tractor pull is expecting over 80 pullers and numbers for the motocross and dirt drag races are expected to be up as well. Friday night's were normally full of demo derby drivers, but this year the number of entries have exceeded 200!
Then fair board members are excited to have the Saturday night concert return with country music artist Riley Green taking the stage around 9 p.m. Despite area rumors, there is no additional cost to watch the concert. As in year's past the price of admission gets you access to all the events and carnival rides.
Throw in a large number of vendors, all the small stage events, the beer garden and all the equine events taking place in the horse arena and it promises to be a week full of fun at this year's Pike County Fair. Friday and Saturday night, buses will be running from the Bowling Green R-I School parking lot to the fairgrounds from 5 p.m. to midnight to give fair goers the option of not parking at the fairgrounds since large crowds are expected.
You can find more information and a full schedule of event by visiting the fair's website at pikecountyfair.org .