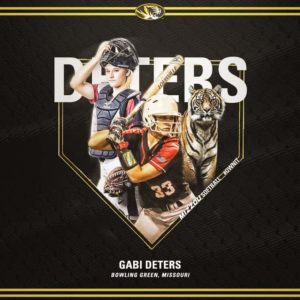 BOWLING GREEN, Mo. – The Mizzou Lady Tigers softball team released more information on former Bowling Green Lady Bobcat Gabi Deters returning to Missouri to finish out her softball career.
Here is the press release from the Tigers…
A True Daughter of Missouri is coming home.
Gabi Deters, a native of Bowling Green, Mo., will join Mizzou Softball after spending her freshman year at SEC rival Kentucky. Deters will have four years of eligibility remaining, but will have to redshirt the 2021 season.
"I'm so excited to have Gabi come back home, Mizzou head coach Larissa Anderson said. "It's so important to keep in-state talent home and playing for Missouri's flagship university. Her experience playing in the SEC will improve the program, and we are excited for her year of development, before we get her for four years."
Deters made nine starts for the Wildcats as a freshman, appearing in 21 total games. She saw time at catcher and third base, batting .259 on the season. She drove in two runs on a homer against Texas A&M for her first SEC hit, while having a multi-hit game against Florida International.
"I couldn't be more excited to be coming home to Missouri, and I am looking forward to wearing a Mizzou uniform and being a part of this program," Deters said. "Coach Anderson and her staff, and the players are making this program a force to be reckoned with in the SEC. They have worked their way through some difficult times and have become a united softball family."
Deters was an elite prospect to come from the Show Me State in the Class of 2019. The 2017-18 Gatorade Missouri Softball Player of the Year, she was ranked as the No. 41 prospect in the nation according to Extra Innings Softball.
Over her prep career, Deters was named to the all-conference, all-district, all-region first teams four times, while also winning the Silver Slugger Award four times. She was a first-team all-state selection three times, and led Bowling Green to back-to-back state championships.
As a senior, Deters hit .430 with 11 home runs to bring her career total to 38 – fourth all-time in the state of Missouri. At the age of 16 she competed for Team USA.
For the latest on Mizzou Softball, stay tuned at MUTigers.com or follow the program on Facebook, Twitter and Instagram (@MizzouSoftball).