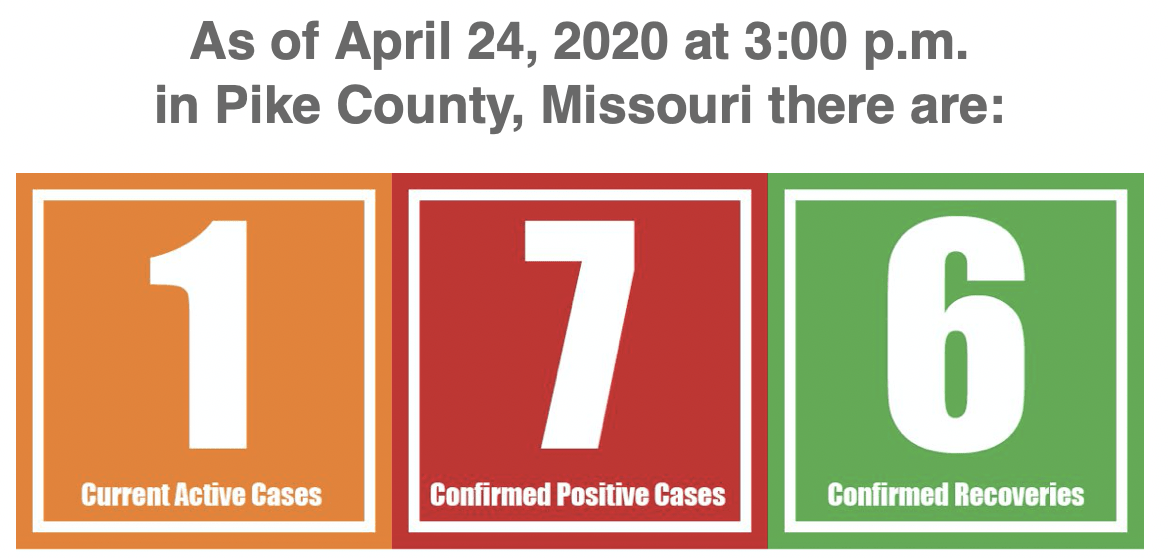 PIKE COUNTY, Mo. – Pike County, Mo Health Department issued a release announcing the seventh positive COVID-19 case has been discovered.
According to the release, it has 14 consecutive days since the last confirmed positive case. Earlier in the week it was announced that all six of the previous confirmed cases had recovered, so now the county has one active case.
Pike County has a population of over 18,500 people, according to a 2018 census and reported seven positive cases to date during this pandemic. To put that into percentage form, approximately 0.037% of the county's population tested positive with the novel-coronavirus (COVID-19).
"We take the health of our community very seriously and it is very apparent that our residents do too. As our expertise is in public health, you can't imagine how great of a feeling that is for us," noted Tracy Brookshier in the health department E-Blast Newsletter.  "Our friends, families and neighbors have taken this pandemic seriously and because of that we have very low numbers of positive cases within our county; together we can ensure it stays that way."
With the nation gearing up to reopen in recommended phases, their duty as the local public health department will be to work with other state and local officials to ensure citizens of the county are doing so in a way that can reduce the chance of COVID-19 making a return.
The businesses throughout county have been creative with safe ways to serve the community through this time of uncertainty and officials are confident they will continue to do so.
Health department officials continue to urge residents to keep taking the preventative measures so that the area does not see another spike in cases. It is unclear when it will be considered back to "normal," but they are confident that it will get there safely with the help of the residents of Pike County.