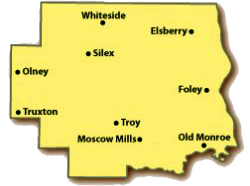 LINCOLN COUNTY, Mo. — The Lincoln County Health Department has been notified of its second positive case of novel coronavirus (COVID-19). This source of exposure is still under investigation. The individual is a resident of Lincoln County and is in their 70's.
Officials understand the sense of concern coming from residents. In order to protect patient privacy, they do not release identifying information on individual cases. Health department officials are working closely with their health care partners and the state to monitor the patient and identify any close contacts. Any close contacts will be contacted individually.
Although worry and concern are normal responses, residents should not be panicked by an increase in cases. The first two cases highlight the extreme importance of social distancing for every individual in the Lincoln County community. Social distancing is the practice of reducing close contact between people to slow the spread of infections or diseases. Lincoln County Health Department recommends keeping a distance of six (6) feet from others whenever possible. Avoid handshakes, fist-bumps, hugs, and kisses, as well as touching your own mouth, nose or eyes. Wash your hands or use hand sanitizer frequently.
In order to comply with the recent order from the Lincoln County Health Department and the Missouri Department of Health and Senior Services, residents shall avoid social gatherings of more than ten (10) people.
If you have symptoms, you should stay home and call your health care provider. Symptoms include fever, cough, or difficulty breathing. If your symptoms are severe enough to go to the emergency room, please call ahead and tell them about your symptoms. For general questions, individuals can call the Missouri hotline number at (877) 435-8411.
The Lincoln County Health Department would like to remind residents to get information from credible and reliable sources, such as the Centers for Disease Control and Prevention at www.CDC.gov , the Missouri Department of Health and Senior Services at www.health.mo.gov and the Lincoln County Health Department at www.lchdmo.org
To stay up to date on local case counts, please go to lchdmo.org/covid19-testing