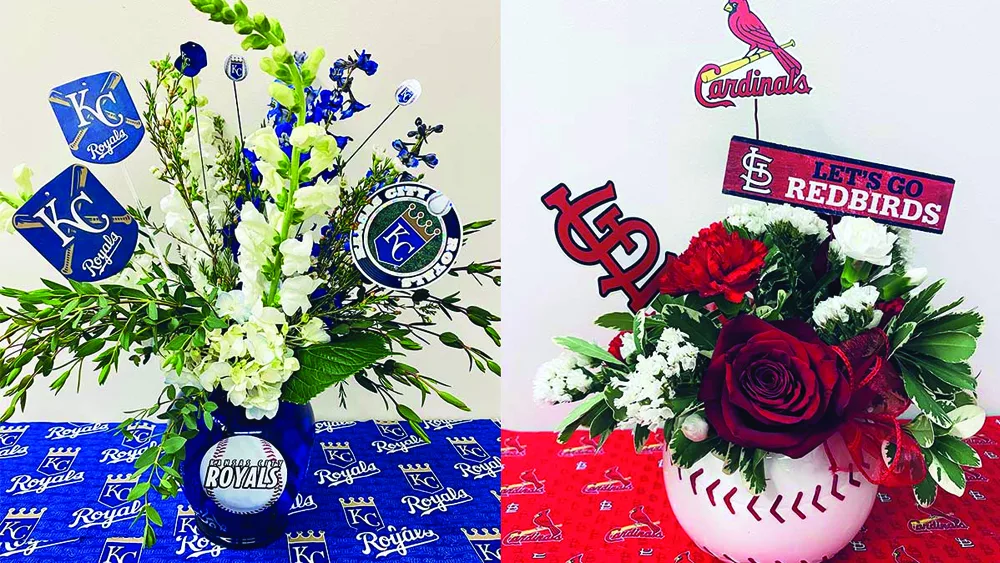 MISSOURI — Whether you are a St. Louis Cardinals or a Kansas City Royals fan, you can show your true colors in a baseball-themed garden this summer.  Fortunately, there are several plants with red and white flowers that can be grown in the home landscape or in containers. While the selection of blue-flowered plants is a bit more limited, Royals fans can add team-themed garden décor, such as outdoor flags, painted signs, or statuary, to the planting to show their true colors.
For Cardinal fans, some of the easy-to-grow bedding plants with red flowers that perform best in full sun include Big Red zinnia, Salmon Red aster, Flare salvia, Prestige Scarlet celosia, petunia, geranium, and vinca.  Although dahlias are planted as tuberous roots,  the Bodacious variety has fiery red petals tipped with whitish-yellow tips and can be grown in full or partial sun. Cornel dahlia produces dark red flowers in a pin-cushion form.  For areas with full sun to partial shade, impatiens are a good bedding plant option, while begonias are a top choice for shaded areas. For red-flowered perennials, cardinal flower and coneflower are durable plants. The Sombrero series of Echinacea, such as Salsa Red, Baja Burgundy, and  Hot Coral, produce different hues of red coneflowers.
For Royals fans, some of the blue-flowered bedding plants that grow well in full sun include cornflower (also known as bachelor's button), salvia, and petunia. Ageratum, browallia, and lobelia are other bedding plants that can be grown in full or partial sun. Veronica, also known as speedwell, is a perennial plant that produces long spikes of showy blue flowers.  The variety, First Glory, produces Royals-worthy blue spikes. Although delphinium plants also produce impressive spikes of blue flowers, they prefer cool growing conditions and therefore, do not perform well in Missouri.
To add interest to a Cardinals or Royals baseball-themed bed, add patches of white-flowered plants among the red or blue areas of the planting. Annual plants with white flowers that are good for sunny sites are Snowball hybrid or White Swan marigold, White Wedding zinnia, geranium, petunia, vinca, and baby's breath. Sun-loving perennials with white flowers include Marry Me coneflower, Shasta daisy, and veronica. Varieties of impatiens, alyssum, and ageratum have white flowers and are excellent annuls bedding plants for areas with full or partial sun, while begonias are the best choice for shaded beds.
If you cheer for both the Cardinals and the Royals, a fun idea is to plant a baseball-shaped bed. White-flowered plants can be planted for the main portion of the ball and red-flowered plants for the stitching. When planting this type of bed, use white and red plants of the same species. For example, both white and red petunias, zinnias, or vinca could be matched in blossom height to form a nice baseball flower bed. Otherwise, use varieties of different plants that flower and mature at the same time with flowers produced at the same height. Also, choose compact, non-spreading plants for the best visual representation of a baseball.
For the less ambitious, smaller-sized baseball-themed containers or hanging baskets with team paraphernalia can be planted using team colors. Another easy way to cheer for the home team, is to host a baseball watch party and use floral arrangements of your team's colors at the snack table. Florists can use roses, carnations, snapdragons, delphinium, statice, baby's breath, or other flowers with baseball-themed floral picks. No matter which way you choose to show your team spirit, you are sure to hit a home run!