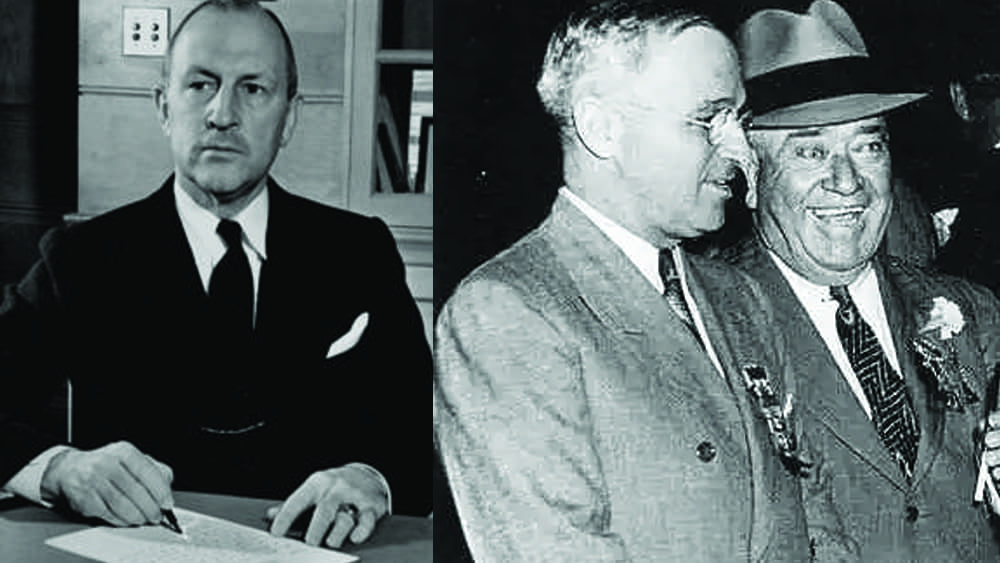 PIKE COUNTY, Mo. — Fate has denied Pike County two presidents.
Much attention has been focused upon party infighting that kept Bowling Green attorney Champ Clark from winning the 1912 Democratic nomination.
The spotlight has not shown as brightly on the 1940 U.S. Senate Democratic primary. It pitted Louisiana nursery owner Lloyd Stark against incumbent Harry Truman, who became vice president and ascended upon the death of President Franklin Roosevelt.
The passage of time makes lack of attention understandable. Yet, intrigue was created by the bitter race, which would see another Pike County influencer make his mark.
If nothing else, the campaign solidified Truman's sometimes coarse persona while proving the old adage that politics makes for strange bedfellows. It all came amid a backdrop of a war in Europe and Asia that soon would draw in America.
Truman recounted a 1939 meeting he had in his Washington office with Stark, who promised not to challenge the senator.
"When he left my office, I said to my secretary 'That son-of-a- ____ is gonna run against me, and, sure enough. I was right," Truman later said.
Gigantic loathing
Stark and Truman despised each other, and the 1940 race would make them enemies for life.
Just four years earlier, however, they'd been buddies. Stark said Truman was "one of the best friends I have in the world." Truman pledged that if he could "be of any service in any way whatever, all you need to do is indicate it, and I will be there."
Hostility erupted with the downfall of crooked Kansas City political boss Tom Pendergast. Truman had received campaign help from Pendergast in his 1934 Senate bid. Stark had been rebuffed by the powerbroker in the 1932 gubernatorial race, but received reluctant support in 1936.
When charges of corruption arose, Truman stuck by Pendergast despite not being part of the fraud. Stark championed the investigations.
"The decent, honest, law-abiding, God-fearing people of Missouri – you and countless thousands like you – deserve the full credit for ridding our state of the domination of a greedy, rapacious gang of plunderers and corruptionists," Stark told one audience.
By 1939, Pendergast was in prison, Truman was questioning his re-election chances and Stark was basking in the national spotlight, including attention from the White House and a favorable five-page spread in Life magazine.
Stark filed as a candidate on Sept. 15, 1939. Two weeks earlier, the Nazis had invaded Poland. In Louisiana, handbags could be purchased at Younkers department store for 50 cents, three pounds of green beans were 30 cents at Sterne Market and "The Invisible Man" was one of the features at the Clark Theatre.
Truman finally announced his candidacy on Feb. 3, 1940. Three months later, Stark held a formal campaign kickoff. A grandstand roof kept rain off of an estimated 5,000 spectators as Stark spoke from a makeshift covered podium built on the racetrack at the Audrain County Fairgrounds in Mexico. The governor spoke for 45 minutes and afterward greeted the audience for an hour.
The candidate said he was "unalterably opposed" to America joining overseas wars and advocated a "defense only" policy.
"We need our young people to work out the peaceful problems of tomorrow and to maintain in this nation the high idealism upon which democracy thrives," he said.
An inspirational finish to the speech, with an eye toward the end of the Great Depression, drew loud applause.
"The years ahead that call for the solution of fundamental problems in agriculture, business and labor will reward those who solve those problems by justifying their faith in America," Stark said. "The solution of those problems will re-employ our people beyond the need of expedients or relief or of created work."
Different drummers
Stark was more conservative than Truman.
The man from Independence was an intelligent, yet scrappy, farm boy who loved music and reading. He relished persevering amid troubles, and any self-doubt was overcome by persistence.
"My choice early in life was either to be a piano player in a whorehouse or a politician," he once joked. "And to tell the truth, there's hardly any difference."
Stark was about as opposite as could be – the kind of successful, dignified gentleman hardly ever found in politics. He was poker-faced and personally reserved, but magnanimous and deeply passionate about progress.
Before entering politics, Stark had galvanized efforts to build the Champ Clark Bridge at Louisiana. In addition to breeding blue-ribbon horses, he advocated unambiguous government and denounced partisan parasites who considered "public office as a private racket."
Voters also got a reminder that democracy came with responsibility. "Good government begins with your ballot," he once told a Rotary Club audience.
Critics called Stark a rich egomaniac whose thirst for power was unquenchable. Washington columnist Jay Franklin wrote that the governor had "a stiff and pompous official manner, which is a political handicap." Author Robert H. Ferrell said Stark was "an ingrate" for turning on Pendergast and for not acknowledging Truman's support of his gubernatorial candidacy.
Those backing Stark labeled Truman an unimpressive legislator who was little more than the puppet of a rotten political scoundrel. Capitol reporters Joseph Alsop and Robert Kintner said he was "an appendage of the old Pendergast machine." The senator admitted he was "under a cloud."
In diary entries, Truman criticized Stark as a "double crosser" who was "intellectually dishonest." He claimed the Louisiana businessman had "followed me around like a poodle dog" to gain support in the 1936 governor's race. Truman would later say that Roosevelt had told him Stark had a "large ego" and "no sense of humor," and that the governor was not "a real liberal."
Friends had urged Truman not to seek office again. Roosevelt appeared to quietly back Stark, and apparently promised Truman a lifetime Interstate Commerce Commission appointment at a higher salary if he quit the race.
"I sent word that I would run if I only got one vote – mine," a typically defiant Truman reportedly told an aide.
Lloyd Stark wasted little time in attacking Harry Truman in their 1940 campaign for the Democratic U.S. Senate nomination.
The term-limited Missouri governor called the incumbent a "fraudulent" hack elected with "ghost votes" provided by Tom Pendergast's Kansas City political operatives. He promised "clean, honest government" if elected.
"I am proud of the part the good people of this state played in the cleanup of the Pendergast machine," Stark said. "Without their influence, the battle for decent government in Missouri might never have succeeded."
Most newspapers favored Stark. The New York Times called Truman "a rube from Pendergast land" and the St. Louis Post-Dispatch predicted his political days were over.
"He may as well fold up and accept a nice, lucrative federal post if he can get it – and if he does get it, it's a travesty of democracy," the paper intoned.
Gould Lincoln of the Washington Evening Star said Stark "is the kind of man needed in American politics." As he had so many times, Truman offered a quintessential comeback when asked about his opponent.
"I'll beat the hell out of him."
Flies in the ointment
Truman wasn't the only man upset that Stark took credit for Pendergast's downfall.
As U.S. District Attorney for Western Missouri, Maurice Milligan had put in prison the boss and more than 200 of his lackeys.
Truman, who six years earlier had received political help from Pendergast, unsurprisingly opposed Milligan's appointment as a prosecutor. There also was an old-fashioned revenge factor. Truman had defeated Milligan's brother, Jacob, in the 1934 Senate primary. Milligan began his own Senate run with promise on March 28, 1940.
All three candidates supported Roosevelt's New Deal programs, although Truman was more outspoken and consistently voted with the president. The trio also hoped to keep America out of escalating wars in Europe and Asia.
The problematic commonality between Truman and Stark was Bennett Clark, Missouri's other U.S. Senator and son of the late Pike County legislator Champ Clark. He didn't like Stark and was barely tolerable of Truman.
Clark had stunned political watchers by winning his seat in 1932 without Pendergast's support. His animus toward Truman dated to the 1934 Senate primary, when Clark had backed Jacob Milligan.
Though they seemed to get along in the Senate, Clark had excoriated Truman for "mendacity and imbecility." In yet another typical response, Truman said Clark was proof that talent wasn't inherited.
Like his father, Clark was a loyal Democrat. He generally supported Roosevelt, even serving as the president's chief 1936 re-election campaigner in Missouri. However, author Thomas T. Spencer noted the senator "did not hesitate to vote against New Deal legislation that he opposed on principle or considered unconstitutional."
Stark picked up on the negative vibes and made sure voters understood his support of Roosevelt.
"This is a dangerous time, and is no time for partisan and carping criticism at the man at the helm of their government, who has at his hands the destiny of every man, woman and child in the United States," Stark said.
It also was a time of one big question. For as Democrats approached the party's national convention at Chicago in July, Roosevelt still had not revealed whether he planned to seek an unprecedented third term.
Clark quickly found himself on a long list of possible candidates.
Cold shoulder
Truman had long felt ignored by Roosevelt.
He had gotten little attention during six years in the Senate and he'd even been left to sulk on shore while Stark sailed the Potomac aboard Roosevelt's yacht.
So, Truman initially backed Clark for president in 1940. In hindsight, observers have differed on if it was a shrewd or senseless decision.
Author Thomas Fleming claimed Truman's support was the kind of ingenious "pure politics" that Truman cherished – an effort to attract votes in Clark's Northeast Missouri backyard.
Author David McCullough countered by writing that it "seemed so blatantly hypocritical and expedient as to be laughable" that Truman would back Clark "for the presidency at any time, let alone now, with the world as it was." Despite his endorsement, Truman said he would campaign for Roosevelt if the president decided to run again.
In addition to Clark, there were more than a dozen potential nominees.  Newspaper columnist Jay Franklin called Clark "thoroughly honest" and "one of the real scholars" in Washington, but added that his "political company has been poorly chosen" and that he was part of "the conservative clique in the Senate which invariably opposes Roosevelt."
Nicholas Wapshott wrote that Clark was among "the passing flavors of the month" and had no real shot at the nomination. McCullough was much harsher, and said no one was surprised when Clark's "presidential boom came to nothing."
It didn't help that Stark was openly hostile to Clark, even though Champ had been a teacher of the governor's father, Clarence, and had given the younger man an appointment to the Naval Academy. Only four years apart in age, the two men had known each other since childhood.
The Associated Press reported that Clark's vitriol toward the governor had "earned for him the title of No. 1 Stark-hater" and that the senator's "prime interest was to see Stark beaten."
Stark ignored the jabs and kept on campaigning, splitting his time between Missouri and Washington, D.C. Milligan sought Pike County votes by advertising in Stark's hometown newspaper, The Louisiana Press-Journal.
Truman did what had worked for him previously. He hopped into his 1938 Dodge and blitzed the state, visiting every burg he could – 75 counties in June and July alone. Bess Truman often reworked his speeches to avoid her husband's sometimes gruff descriptions. At one rally, Truman's address included multiple uses of the word "manure."
"Why on earth can't you get Harry to use a more genteel word?" a friend asked.
"Good Lord, it's taken me years to get him to use 'manure,'" Mrs. Truman replied.
Meanwhile, at Bowling Green High School, a senior named William Hungate was keeping one eye on the war overseas and the other on the Senate race.
Later, the Army combat veteran and Missouri Congressman would make a hindsight observation about the ineffective vandalism that hit Truman's campaign in Stark territory.
"As fast as you took down his posters, someone else put them up," Hungate recalled. "He was recognized across the state as a champion of the people."
Thus, the stage was set for a remarkable election.