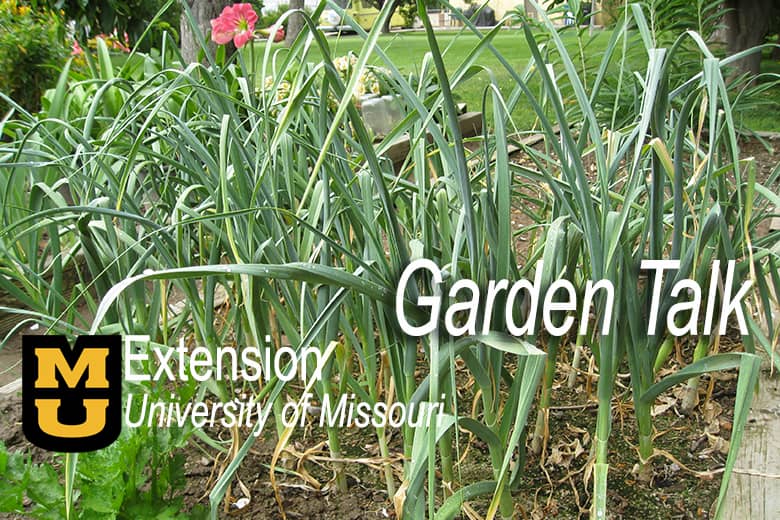 KJFM NEWS — Garden Talk is produced monthly at the Adair County University of Missouri Extension Center in Kirksville, Mo.
Garlic (Allium sativum) is a member of the lily family and has been cultivated for thousands of years. It is widely used for both its culinary and medicinal attributes.
About one-half of U.S. garlic production is sold in the fresh market; the other half is dehydrated. Fall is the best time to plant garlic, a good three weeks prior to the ground freezing, so the roots have a chance to develop.
Garlic should be planted in well-drained soil in full sun. It likes organic matter, so amend soil with compost or well-rotted organic matter. In addition to adding organic matter, apply two to three pounds of 10-10-10 fertilizer per 100 square feet before planting. It is best to get garlic from garden centers, catalogs or local producers. The garlic sold in grocery stores is usually treated to prevent it from sprouting, so it's not a good choice for planting.
Garlic bulbs should be broken apart into individual cloves, but don't do it until right before planting. Choose the largest cloves for planting to get the best yields. Cloves that are diseased or soft should be discarded, and small or damaged can be used in the kitchen. Once the soil has been prepared and cloves selected, plant them one to two inches deep and four to five inches apart with 15 to 18 inches between rows. Make sure to plant the cloves with the pointed side facing up.
During the growing season, try to keep the soil evenly moist. If the soil gets too dry, it can result in small, irregularly shaped bulbs. They need about an inch of water a week.
Garlic should be harvested when half of the leaves have turned yellow, usually around late June/early July. Bulbs should be cured in a cool, dry, well-ventilated area for several weeks. Once your garlic is cured, the stems and roots can be cut off and bulbs cleaned by removing the outermost skin. Just make sure not to expose the cloves. Finally, they should be stored in a cool, dry, dark place.