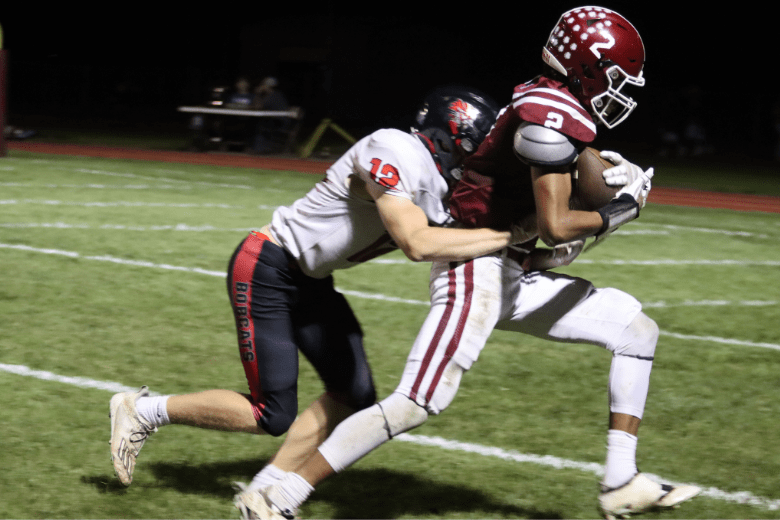 LOUISIANA, Mo. — For the first time since 2015, Bowling Green and Louisiana met for the battle of the Mayor's Cup. Bowling Green won the last time the rivals met and they've held on to the trophy for the last six years. The Bobcats will keep the Mayor's Cup, at least for another year, as Bowling Green downed Louisiana 56-0 on Friday night.
Bowling Green's offense was on fire Friday night as the team extended their win streak to six games and remained undefeated. Within the first two minutes of the first quarter, Marcus Starks marched into the endzone and gave the Bobcats an early advantage. The red and black picked up the two-point conversion for the 8-0 lead. Bowling Green went on to score thirty-five more points in the first half for a score of 43-0 as the teams made their way to the locker rooms.
Louisiana pushed their offense and came close to scoring a few times in both the first and second half. Unfortunately, the Bulldogs were stopped by a solid Bowling Green defense. The Bulldogs worked hard throughout the whole game and had highlights from standouts Mason Washington, Quincy Hutt, and Wyatt Harrison.
Bowling Green added on thirteen more points in the fourth quarter for a final score of 56-0. Louisiana Mayor Kathy Smith, Bowling Green Mayor Jim Arico, and Missouri State Representative Chad Perkins presented the Mayor's Cup to the Bowling Green Bobcats.
The Mayor's Cup, the oldest-known traveling trophy in Pike County, Missouri, started nearly three decades ago. The Mayor's Cup was introduced in 1994 by previous mayors Mike Grote of Bowling Green and the late Bill Wunderlich of Louisiana. For more history of the tradition of the Mayor's Cup: https://www.kjfmradio.com/2021/10/08/historic-battle-for-mayors-cup-resumes-tonight/
Bowling Green is now 6-0 in 2021 and will travel to South Callaway next Friday. Louisiana is now 3-4 on the season and will travel to Wright City in search of a road win. Find coverage of area high school sports by staying tuned to 102.1FM, by listening to Eagle 102 through the KJFM Radio app, online at kjfmradio.com or through Alexa,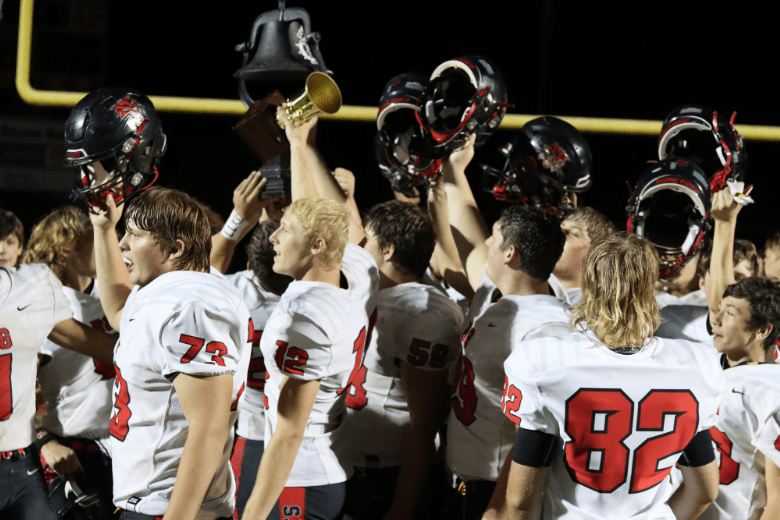 In the featured image, Bowling Green's Braden Heidecker tackles Mason Washington after Washington made a stellar grab in the first half. Above, Bowling Green hoists the Mayor's Cup and the Commissioners Trophy following the 56-0 team win.