CLARKSVILLE, Mo. — The Clopton Lady Hawks fell to the Bowling Green Lady 'Cats 10-0 on Tuesday night. Bowling Green and Clopton athletes were dressed in alternate pink uniforms for Breast Cancer Awareness month. The Pink Out Game has become a tradition over the last few years for the two EMO Conference teams.
Bowling Green made things happen in the second inning, as the team notched seven runs on the board. The Lady 'Cats laid down bunts and found their way on base to rattle Clopton's ace Shana Yates and the Lady Hawks defense. A couple of infield hits and shots to the gap put Bowling Green in the important EMO match.
Bowling Green's ace Tanner Turner was solid in the circle, making it difficult for Clopton to rally back. Turner tossed a two hit shutout and recorded nine strikeouts in the varsity win. Clopton's Kelsey Shuford and Madelyn Brune broke Turner's no-hitter. Shuford hit a double in the bottom of the first inning, and Brune picked up a single in the bottom of the sixth inning.
Yates picked up the EMO Conference loss from the rubber for Clopton. Yates gave up ten runs on ten hits, and recorded six strikeouts.
The Clopton Lady Hawks will host the Van-Far Lady Indians on Thursday night for another EMO Conference game. First pitch for Thursday is set for 6:00 p.m.
The Bowling Green Lady 'Cats will travel to Auxvasse to battle the North Callaway Lady Thunderbirds. First pitch for Thursday is set for 5:00 p.m. Find coverage of area high school sports by staying tuned to 102.1FM, by listening to Eagle 102 through the KJFM Radio app, online at kjfmradio.com, or on Alexa.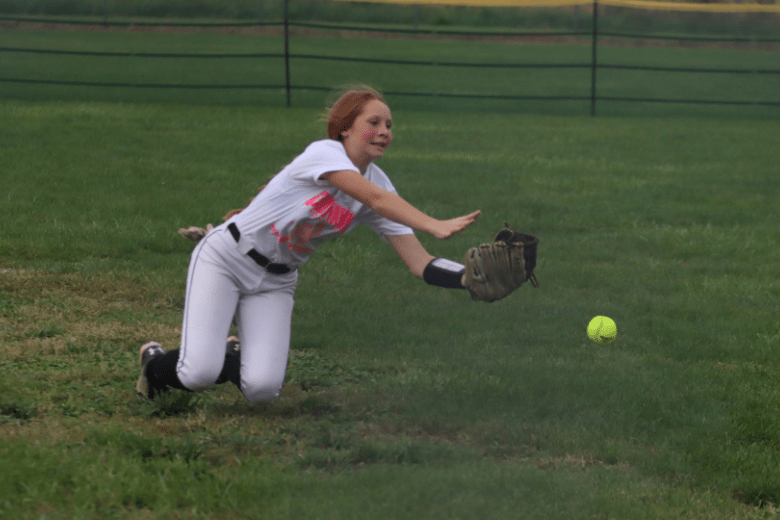 In the featured image, Bowling Green's Tanner Turner slides into second base safely as Clopton's Kelsey Shuford attempts to make a tag. Above, Clopton's Braya Smith lays out for a foul ball in right field to try and secure an out for the Lady Hawks.