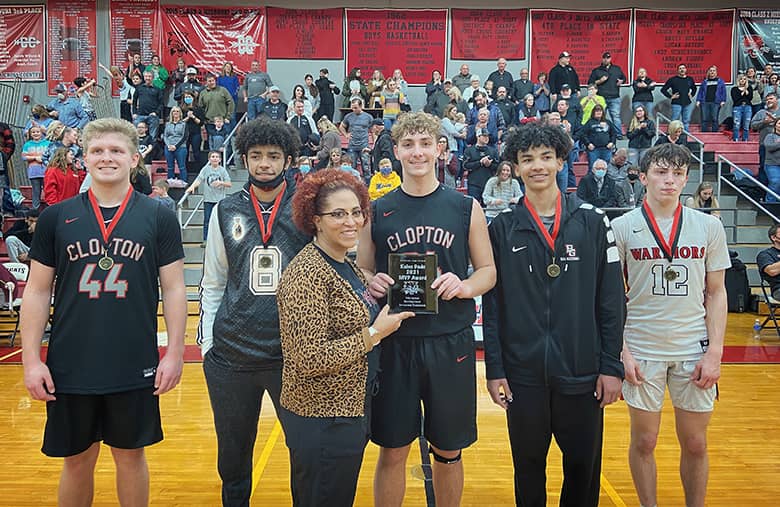 BOWLING GREEN, Mo. — The boys championship action at this year's 96th Annual Bowling Green Invitational Tournament is what basketball fans live for.
The #2 seed Clopton Hawks slipped past #1 seed Winfield for the second year in a row to claim the title of champion. The two teams met earlier in the month at the Clopton Invitational Tournament where the Warriors pushed the Hawks into the third place game. When Clopton took the floor in Bowling Green Saturday evening they were looking for revenge. Clopton got ahead by as many as 10, but the Warriors battled back in the second half trading the lead with the Hawks up until 4.5 seconds to go in the game. Free throws ended the game, 51-49, with the Hawks walking away the winners for the second straight year.
The third place match-up between #3 North Callaway and #5 Bowling Green was just as exciting. The 'Cats came out hot, but in true Thunderbird fashion, the club inched their way back into the game. The lone senior on the Bobcat squad, Michael Starks, lead his team up and down the court and even got fans on their feet when he threw down a big jam in the second half. While North Callaway got close at times, the 'Bobcat magic' was just too great and the Bowling Green team got to keep the third place hardware at home with a 64-58 win.
The #4 Louisiana Bulldogs opened Saturday action by taking on #7 Elsberry in the consolation match-up. The Bulldogs came out with their shots falling, took the lead and never looked back. While the Louisiana lead was never in real jeopardy from the Indians, the young Elsberry squad didn't give up. The Bulldogs were just too much to handle and went home with the consolation trophy after a 63-42 win.
Other awards handed out at the tournament included the annual sportsmanship award which went to Clopton, the free throw award was given to Van-Far and then the KJFM Eagle 102 All-Tournament Team was announced. Making the team included this year's Kaleo Dade MVP winner Gabre Hill of the Clopton Hawks, Clopton's Zakk Eivins, Winfield's DJ Gillespie, Bowling Green's Michael Starks and Louisiana's Mason Washington.
The cheerleading award was presented this year. Stay tuned to Eagle 102 and kjfmradio.com for more highlight's from this year's tournament.