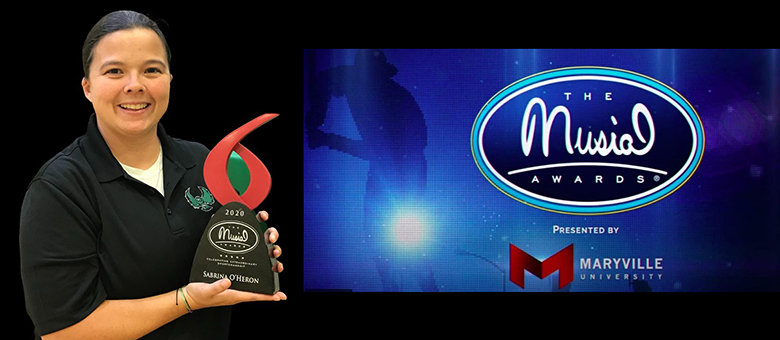 SILEX, Mo. — Silex Lady Owls Head Coach Sabrina O'Heron shared a night of recognition with big name stars such as Hank Aaron and Bubba Wallace when she was presented the Musial Award for sportsmanship.
O'Heron and her Lady Owls basketball team travelled to Louisiana towards the end of the season for a conference game that also happen to be the Bulldogs senior night. While the Lady Bulldogs had a short bench all season due to low numbers, illness made their numbers even lower. Therefore, before the game O'Heron talked with her players and came up with a plan as to how they might handle the situation should Louisiana have to play with less than five players.
The Lady Dawgs began the night with seven players, but right after tip-off one player had to leave the game due to illness. Then another player went out with an injury leaving just five players left to finish the game. Into the second half one of the players for Louisiana fouled out leaving just four players on the court. O'Heron quickly removed one of her five players to even it up and they played four-on-four. However, another foul from Louisiana late in the fourth quarter caused them to lose another player and the Lady Bulldogs were down to three. Without hesitation the Lady Owls once again had another one of their own stepped off the court and as time ran out, the three-on-three match-up was something very few in attendance had ever witnessed at the high school level.
"Success isn't always defined by how many wins and losses you have," said O'Heron. "It's the kind of person you are 20 years from now. Basketball provides a good opportunity to teach kids about life lessons and I think that was a good opportunity for them to learn."
O'Heron received praise from fans on both sides of the competition for her sportsmanship and deep gratitude from the Lady Bulldogs coach at the time Becky Monachino.
For that sportsmanship, O'Heron was presented an award named for the baseball hall of famer Stan Musial. The award honors the year's greatest moments of sportsmanship and the biggest names in sports who embody class and character. The same evening O'Heron was presented her award, baseball great Hank Aaron was awarded the Stan Musial Lifetime Achievement Award for Sportsmanship and NASCAR driver Bubba Wallace was awarded the Stan Musial Award for Extraordinary Character. The event which took place on Musial's 100th birthday will air at a later date.