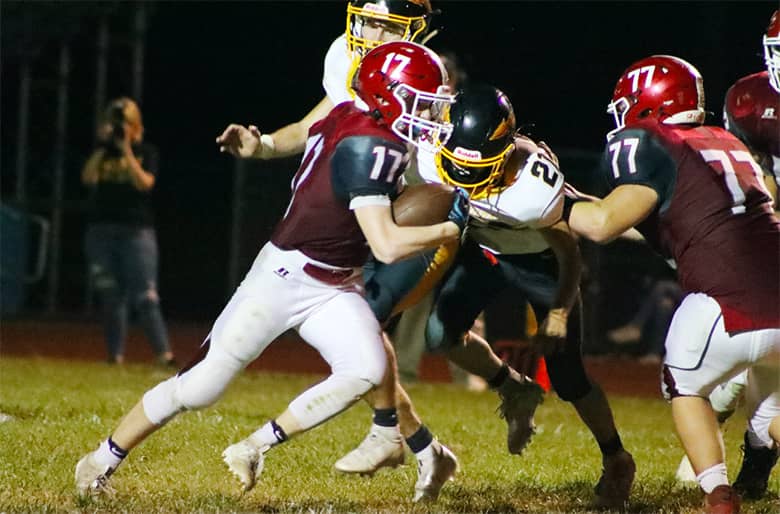 LOUISIANA, Mo. — Louisiana etched their first win of the season and Gregory Pitzer received his first win as head coach as the Bulldogs defeated the Van-Far/Community R-VI Indians 35-28.
Before the game, the Air Evac life team that kept Louisiana High School student and football player Angel Ulloa alive following a serious car accident just a few short months ago, delivered the ball for the game. The Air Evac helicopter landed on Cunningham field and the lifesaving team was greeted by Ulloa and exchanged hugs. You can see a video of the delivery by visiting the KJFM Eagle 102 Facebook page.
The first half of the game was low scoring as the Indians and Bulldogs both played solid defense, making it tough for their opponent to score. Louisiana took a short-lived lead, scoring a touchdown in the first quarter. After a failed attempt at an extra point the Bulldogs went into the second quarter leading the Indians 6-0. The Indians would rally back in the second quarter tying up the game at six.
Following back-to-back fumbles from both teams late in the second quarter, Louisiana regained possession of the football, capitalizing offensively to add another touchdown as well as a two-point conversion to the scoreboard. At halftime the Bulldogs lead the Indians 14-6.
After the half-time break, both teams picked up the pace offensively. Capitalizing on turnovers, the Louisiana Bulldogs were victorious. In the second half of the game, the Indians out-scored the Bulldogs 22-21 but a strong first half and defense from Louisiana, helped keep the Dawgs on the plus side in the match-up.
In the game, Bulldog quarterback Luis Monjaraz ran for 127 yards, threw for 94 yards, had three passing touchdowns and one rushing. Also racking up numbers for the Bulldogs was Wyatt Harrison with 108 rushing yards on the night. For the Indians, Bryson Lay was the man to run the ball and he ended the game with 119 rushing yards.
In week six of football action Louisiana will travel to the Missouri Military Academy and Van-Far/Community R-VI will travel to South Callaway. Reminder you can always find a full recap of scores by visiting the scoreboard page at kjfmradio.com.