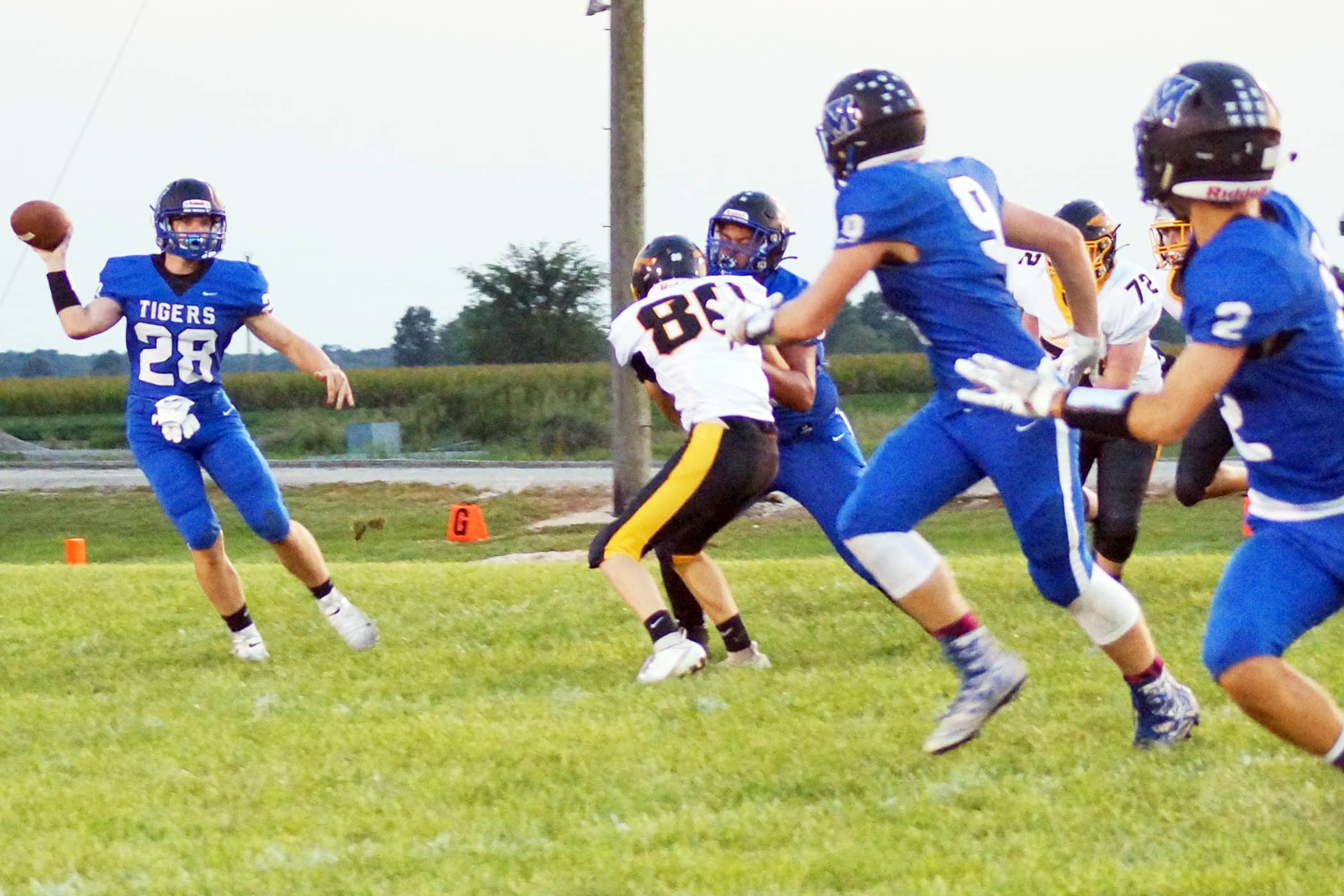 CENTER, Mo. — The Mark Twain Tigers came from behind to defeat Van-Far/Community R-VI and retain the "Farmer's Cup" on Saturday night in an 8-6 victory.
The low-scoring affair played at Mark Twain High School was the first game of the season for the Indians. While they struck first with a touchdown in the first quarter, numerous penalties in the second half stymied their season opening effort against the Tigers.
The Indians got on the board with 7:11 remaining in a fast-paced opening quarter as the defense fell on a bad snap by the Tigers that was pushed back to midfield. Quarterback Tony Garland connected with LaTrell Wright at the 24-yard line on the third play of the drive. The Indians scored when Garland found tight end Austin Taylor over Mark Twain defensive back Jaxen Lake. The Indians led 6-0 following a failed try for the two-point conversion.
The lead lasted through the end of the half and late into the third quarter, then Mark Twain found the endzone. Evan Torrence connected with Landon Moss, who took the ball all the way to the Indian one yard line. Gavin Davis ran the ball in to tie the game.  Torrence hit a tiptoeing Jaxen Lake on the right side of the endzone for the two-point conversion and an 8-6 lead with just 1:37 remaining in the third quarter.
Penalties set back efforts for Van-Far to tie the game in the fourth and two interceptions sealed the deal for Mark Twain down the stretch.
The Tigers evened their record at 1-1 on the season and in the EMO Conference while Van-Far fell to 0-1 with the loss.
Mark Twain will travel to Mexico next week for a date with Missouri Military Academy. The Indians are slated to host North Callaway (1-1) in their home opener. Reminder, you can always find a full recap of scores daily on the scoreboard page at kjfmradio.com and on the KJFM Radio App.