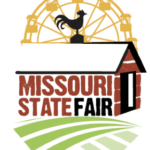 SEDALIA, Mo. — No concerts, but all other activities for the 2020 Missouri State Fair are set to go. Gov. Mike Parson and Missouri Agriculture Secretary Chris Chinn made the announcement on Thursday, during the governor's daily press conference.
"Everyone keeps asking what the fair will look like this year. The only major feature that will not be coming back this year will be our concert line-up. Our livestock shows, our carnival, our camping, they're all on for the 2020 state fair," Chinn said.
Concerts were primarily cancelled because performers backed out, she said.
With current COVID-19 health conditions in the state, as well as the semi-rural location of the fair in Sedalia, officials said Missouri is in a "different situation" than what other states are experiencing with the coronavirus, which has forced mass-gathering events to be cancelled. The state fair tractor pulls and car shows, which draw big crowds, are planned to proceed.
"It goes without saying, we are committed to stepping up our game on our cleaning efforts to make sure we do everything we can do to protect the public. We purchased additional hand sanitizer stations, and we are going step up our cleaning procedures and sanitization efforts," said Chinn, who noted she was a mother of a fair exhibitor.
"We wanted to ensure traditions continue this year," she said.
The Missouri State Fair is scheduled for Aug. 13-23.