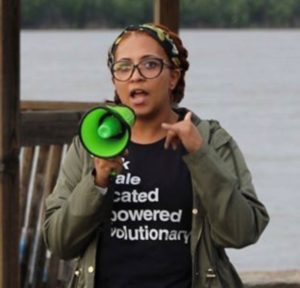 BOWLING GREEN, Mo. — The public is invited to participate in a peaceful rally in the Bowling Green city park on Sunday, June 7 at 5 p.m.
The Stand Up to Racism and Social Injustice event is being organized by Tiffany Coleman-Dade. She noted this is a way for people to come together in solidarity and participate in an important discussion.
"We definitely need to learn to work together toward a more inclusive way of thinking and find solutions to the things that are plaguing our society today when it comes to race and social injustices," she told KJFM. "There's no denying that there are biases out there that still exist, that even after all this time should not. It's a dialogue that we all have to have and it's an uncomfortable dialogue, but it's an important dialogue."
Coleman-Dade noted that she would be happy to talk to anyone who has questions or would like more information on ways they can be an ally and support the cause of equality and ending systemic racism. She pointed out that she grew up in this community and wants to contribute to positive change.
"We're very fortunate to live in such a small community that has some good law enforcement officers who are very supportive, and who do try to work for solutions for everyone to be treated fairly. They're doing a good job and it's a hard job," she said. "Nothing changes until we change it. Ending racism and social injustice is something that everyone has to work together to end."
Coleman-Dade noted that while all lives matter and are precious, black lives are being lost disproportionately and drastic change is needed. She added that as a black woman and mother, this is something very important to her.
"I think it's also important that we not live with our heads in the sand and deny that there's not things that go on around here that needs to change. I think that in this world we can do a better job respecting the cultures and differences of others and that's the very first way that we move forward," she explained. "I'm thankful for the people around Pike County that continue to uplift and try to make this world a better place."
A rally was held in Louisiana on Wednesday, June 3 and was well-attended by the community. Coleman-Dade spoke at that event and noted it was encouraging to see the support.
"Living in a small community, a lot of times we're not faced as much with dealing with these types of problems as they are in big communities, but that does not mean that they're still not here."
The peaceful event will begin at 5 p.m., in the Bowling Green city park.
Follow Eagle 102 for more on this and other local news – 102.1 FM and kjfmradio.com
By April Fronick