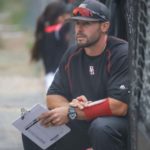 (Eagle 102 Sports) – After winning two Class 2 Missouri State softball championships and accumulating a record of 164-48 as the head coach of the Bowling Green Lady Bobcats, Dean Streed is headed to Holt High School in Wentzville.
Streed took over as head coach of the Lady 'Cats in the 2012-2013 season where the team went 11-13, after that, they've never had a losing season. For the first time in school history Streed led the girls softball team to the Class 2 state championship in the fall of 2017 and then repeated in 2018. This past season, Bowling Green came up short in the district tournament to Monroe City.
In addition to head coach of the softball team, Streed has also been the head coach of the baseball team beginning with the 2014-2015 season. Prior to that he served as assistant coach. In the skipper position, Streed accumulated a record of 64-37.
Streed has been a physical education and kinesiology teacher during his time a Bowling Green. For a short period of time he also served as an assistant football coach.
At Holt, Streed will take over a program that finished 27-3 and was Class 4 District 7 champions. If all underclassmen return in the fall, Streed will start his season with at least 21 players.
Stay tuned to KJFM Radio, online and on our Facebook page for more information as it becomes available.