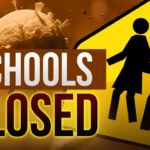 (KJFM News) — Schools in Missouri will remain closed through the remainder of the 2019-2020 year, according to an order from Governor Mike Parson earlier today.
The announcement was made at about 3 p.m. on Thursday, April 9. He stated that all public and charter schools would not reopen in this term. The Archdiocese of St. Louis also announced that elementary and high schools will continue distance learning for the remainder of the year.
"We are ordering all Missouri public and charter schools to remain closed through the remainder of the academic year with the exceptions of nutrition services and child care that are outlined in our recent health order," Parson stated. "This recommendation was made by working together with the Missouri Department of Elementary and Secondary Education and several school superintendents from across the state — from both urban and rural districts."
School is slated to continue through the end of the school year through the distant learning programs already in place. Gov. Parson also indicated that plans are being developed to ensure that graduating seniors be afforded the opportunity to participate in a ceremony to receive their diplomas.
In a press release from the Department of Elementary and Secondary Education (DESE), it was noted that while school buildings will remain closed – learning will continue.
"To reiterate what the Governor shared, school building will remain closed for the rest of the school year…but school services should continue through the last day of school in each school district, as pre-established by the school calendar approved by their local boards of education. Those continued services include providing much-needed meals to the students who count on them as well as alternative educational opportunities."
The release also noted that school leaders are being asked to continue to be creative, innovative and persistent in their pursuit to reach students with some kind of academic opportunity.
Tune to KJFM Radio for more on this and find more local news online at kjfmeagle102.net.