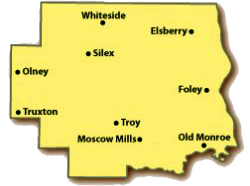 LINCOLN COUNTY, Mo – The Lincoln County Health Department has been notified of the first death related to COVID-19 in Lincoln County, MO. The resident was a male in his 60's.
"We are extremely saddened by this news," says Administrator Brett Siefert. "Our thoughts and prayers are with his family and friends at this time."
Siefert stressed the importance of following the guidelines from government agencies across the United States, as well as in Lincoln County "It is crucial," he said, "that we all work together to do everything we can to stop the spread of COVID-19 so that additional lives are not lost."
As of 9am on April 7th there have been 24 confirmed positive COVID-19 cases in Lincoln County.