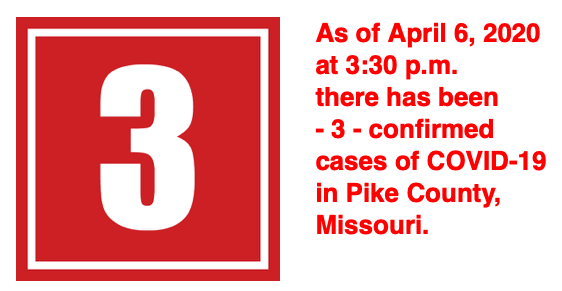 According to the Pike County Health Department as of April 6 at 3:30 p.m. there has been three confirmed cases of COVID-19 in Pike County, MO.
To protect the privacy of the confirmed cases officials are unable to give any additional information at this time. More information will become available if it becomes pertinent as cases are still under investigation. Cases are either hospitalized or are in-home isolation. The health department continues to monitor and investigate each individual case and are making contact with all those who have been in close contact with the positive cases.
The safest thing you can do to keep yourself and your family safe is to stay at home and only leave for essentials.
When out for essential needs ensure you are following safe social/physical distancing and other preventative measures such as:
Avoid contact with others or stay at least 6ft away
Cover coughs and sneezes
Disinfect surfaces often
Wash your hands thoroughly and often
Together we will get through this and stop the spread of COVID-19. Health department officials will be keeping the community updated on the case count via their E-NEWS, website and social media outlets.