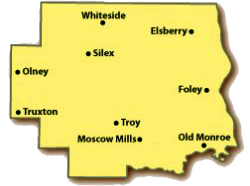 LINCOLN COUNTY, Mo. — Lincoln County Health Department is issuing a Stay at Home Order, effective tomorrow 3/29/2020 at 12:10 a.m. until 12:01 a.m. 4/6/2020. See full order here: https://bit.ly/3dARr9Y
-This order shall supplement the previous Orders from LCHD and DHSS.
-Individuals shall follow social distancing requirements.
-Individuals shall avoid social gatherings of more than 10 people.
-Individuals may leave their residence only to perform essential activities (essential activities are defined in the Order).
-People who are at high risk and people who are sick are urged to stay in their residence except as necessary to seek medical care.
-All first responders, emergency management personnel, emergency dispatchers, court personnel, and law enforcement, and others working for or to support businesses are categorically exempt from this Order.
-Nothing in this Order shall prohibit any individual from performing for accessing "Essential Governmental Functions".
-This Order does not order the closure of businesses, however businesses which remain open shall maintain appropriate social distancing and shall utilize good hygiene and cleaning practices at the business address. If feasible, businesses are asked to review and implement telework or work from home (see Order for details).
– Persons shall limit their travel to essential travel (essential travel is defined in the Order).
– Violations of any provision of this Order constitutes an imminent threat and created an immediate menace to public health.