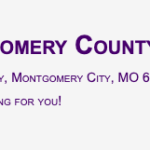 MONTGOMERY COUNTY, Mo – The Montgomery County Health Department has confirmed its second positive case of COVID-19 in Montgomery County.
All contacts from the case earlier this week have been notified. All self-quarantine measures and recommendations were followed. They ask that the community be respectful of the privacy of those affected by COVID-19.
The second laboratory confirmed case is currently under investigation and officials will continue to contact those identified to be at risk. As before, the patient's identity will remain confidential; therefore, they will not be releasing any personal information about this case.
It is apparent that COVID-19 is in the Montgomery County community and the Montgomery County Health Department wants to encourage everyone to follow their recommendations for social distancing and measures to prevent the spread of disease. The Montgomery County Health Department is taking necessary precautions to keep their patients and community safe and will continue to diligently monitor the COVID-19 situation and follow CDC guidelines to help protect the public health and limit the spread of this infection.
If you have questions, please consult a factual source, such as www.health.mo.gov/coronavirus or www.cdc.gov . The community can also call the MDHSS 24-hour hotline (877)435-8411 or Montgomery County Health Department to address questions or concerns related to COVID-19.