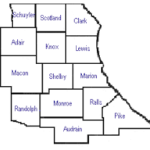 KJFM NEWS – Northeast Missouri has its first confirmed cases of COVID-19. Hannibal Regional Hospital confirmed they have two patients that tested positive.
Officials note the first patient is from Ralls County and is believed to have picked up the virus during travel. The individual is recovering at home in self-quarantine.
The second patient is from Shelby County and is recovering at the hospital. It's noted this was not a travel related incident.
Ralls and Shelby County officials are attempting to trace the patients' connections and take all necessary precautions to minimize the potential spread from the infected patients.