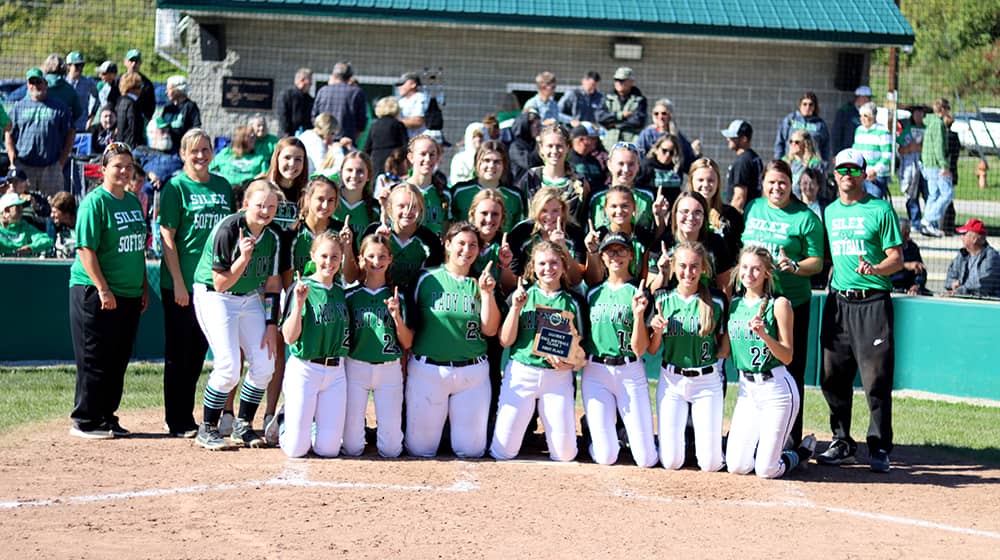 SILEX, Mo. — The state ranked Silex Lady Owls are your 2021 Class 1 District 8 champions after defeating the Van-Far Lady Indians 14-4 in 5 innings. Van-Far came out and got two early runs in the top of the first as it looked like Silex's ace Taylor Howard was struggling taking each hitter to a full count. After back-to-back strikeouts, it was Silex's turn to take a run at the Van-Far pitcher.
Lady Indian's Head Coach Kelly Borchert threw everyone a curve when she started senior Kaelynn Culwell in the circle instead of Mara Jensen. Her plan worked as Culwell threw a total of four pitches in the bottom of the first to get out of the inning 1-2-3.
Silex's Howard seem to lock down in the top of the second, getting three strikeouts and allowing a walk. It was the Lady Owl's offense in the bottom of the inning that got hot. Silex crossed home plate four times on four hits and one error by the Lady Indians.
Heading into the top of the third inning, now down by two, the Van-Far Lady Indians got a spark of life when Jensen went yard with the only home run of the day and brought Van-Far back to within one heading to the bottom of three. The Lady Owls didn't care much for the tight game and tacked on four more runs from two singles, three doubles and a triple in the inning. Halfway through, Van-Far made the switch from Culwell to Jensen in the circle.
In the top of the fourth, Van-Far went down in order and that's when Silex took full advantage of the momentum shift. Hitting off a combination of Devyn Keller and Jensen, the Lady Owls plated six runs after batting through their line-up stretching the lead to 14-3.
The top of the fifth was the final hope for the Van-Far Lady Indians to stay alive. Lead off batter Madelynn Caldwell got a hard hit to left field, Kellar sent one out to center field bringing Caldwell across the plate. However, Keller and Culwell would be left stranded as Howard was able to get the final strikeout of the day ending the Lady Indians season.
Van-Far finished 10-13 on the year while the Lady Owls improve to 19-2 and advance on to sectional play against the Cairo Bearcats at Northeast High School on Wednesday. Time of the game is still to be announced.