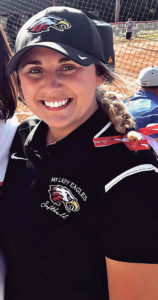 Clopton Alum Kelsea Dorsey is headed back to Pike County after spending the past two years teaching and coaching at Knox County School District. She has accepted a position at Louisiana High School as a Physical Education teacher and will be on the coaching staff of the softball and girls basketball teams. Dorsey was an all-state pitcher and member of the basketball team for the Clopton Lady Hawks then continued her softball career at Truman State University where she graduated in 2016.
Dorsey began teaching at Knox County in 2017 where she also served as the assistant softball coach and head girls basketball coach. This past fall the Knox County Lady Eagles softball team finished third in Class 1. In 2018 the Knox County Lady Eagles saw the Clopton Lady Hawks in district basketball play and then the two teams met again this season in sectional action.
Dorsey herself is no stranger to state play-offs. While playing softball for the Clopton Lady Hawks Dorsey helped bring two Class 1 State Championship trophies back to the school. Both years the Lady Hawks defeated Jefferson. During the 2009 state games Dorsey pitched shut-outs in both the semi-final and championship games. Also, during the championship game she recorded a record 20 strikeouts in the win. The following year, Dorsey only allowed one run between the semi-final and championship games. She also made two trips to state in basketball her freshman and senior years where the Lady Hawks brought home third place trophies in Class 2.
Click the link below to hear the interview with Dorsey.