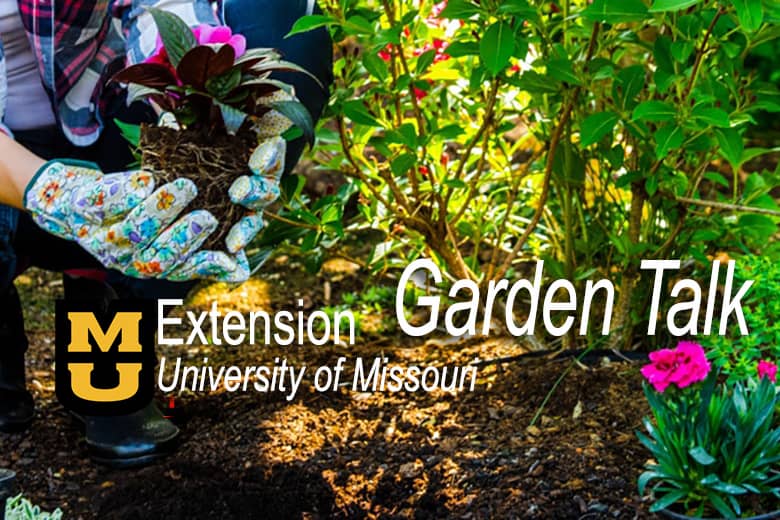 KJFM NEWS — Garden Talk is produced monthly at the Adair County University of Missouri Extension Center in Kirksville, Mo.
The cool, rainy weather in May contributed to many plant diseases showing up on fruit trees and ornamentals. Anthracnose, peach leaf curl, cedar-apple rust and fireblight are a few of the diseases we are seeing now.
Anthracnose can be a problem of trees such as ash, maple, oak, walnut and sycamore. It is a fungal disease that appears as round or irregular shaped dark brown lesions along the mid rib or veins of the leaves. Use good sanitation practices such raking up fallen leaves, removing dead or diseased wood, and pruning for better air circulation. Anthracnose will not kill a mature tree, and for most, only affects the aesthetics of the tree.
Peach Leaf Curl is a fungal disease affecting peach and nectarine trees. Leaves turn red, curl and become distorted. It can be severe in cool, wet springs and by the time the homeowner sees it, it's too late to control it with fungicides. The best time to spray for peach leaf curl is during the dormant season, November through early March in northern Missouri.
Cedar-Apple Rust is a common fungal disease of apple and crabapple trees. Easter Red Cedar is an alternate host to the disease. Galls form on the branches of the cedars that produce orange, gelatinous horns that release spores up to a mile to infect the young leaves and blossoms of trees. After infection, orange-brown lesions appear on the upper sides of the foliage or on the fruit. Cedar apple rust can cause defoliation and loss of fruit quality. For chemical control, try sprays containing mancozeb, myclobutanil, or sulfur. Select disease-resistant cultivars when planting new trees.
Fireblight is a bacterial disease affecting apple, pear, crabapple and related species. Bacteria over-winters in cankers in old diseased areas of the tree from which they ooze in early spring. The bacteria spreads from the cankers by insects and wind-blown rain. Careless pruning practices can also spread the bacteria. Most homeowners notice fireblight when the growth on trees turns dark brown to almost black and looks as if its been scorched by fire. The tips of infected trees will wilt, die, and assume a characteristic "shepherd's crook" appearance. Fireblight often kills a foot or more of the terminal growth.
Gray Mold, also called Botrytis Blight, is a fungal disease that develops in strawberries during prolonged periods of cloudy and rainy weather. Light brown lesions develop on the stem end of the fruit but may also occur on the side of fruit where soil, water, or infected berries or flower petals are in contact. Infected berries may become covered with gray spores and mycelium. High humidity favors the mold growth formation that is visible as a white to gray cottony mass. Control measures include discarding infected berries, providing good air circulation, mulching plants in between rows to avoid contact with the soil, picking strawberries after the plants have dried, and fungicide applications in severe infections.
Black Rot is a serious disease of grapes. Use protective fungicide sprays as new shoots are 2 to 4 inches long, and again when they are 10 to 15 inches long, just before bloom, just after bloom, and when the fruit has set.
Corn Earworm Management
Questions about sweet corn and corn earworm are already coming in. If you have ever grown home garden sweet corn, it's likely you have dealt with corn earworm. It is the worm found in the tips of sweet corn.
Evidence of earworm is damaged kernels, frass, and the worm itself. The larval stage of corn earworm lasts 14-21 days. When the larvae are finished feeding the worms drop to the ground and enter the soil near the base of the plant where they transform into shiny brown pupae.  During summer adults emerge in 10-14 days and start the cycle over. Adult moths are usually light yellow-olive in color with a single dark spot near the center of each forewing.  Each forewing has 3 slanted dark bands.  Their hind wings are white. The cycle repeats itself with the moths laying eggs at dusk on host plants on warm days.  The total generation time is 28-35 days.
Control measures include: variety selection-select varieties that have long, tight-fitting husks. These varieties appear to suffer less damage; plant Bt hybrids; use preventative sprays when 10% of the silks are showing in your sweet corn patch; use chemical control if necessary-this requires numerous applications for worm-free corn. Some products that can be used include mineral oil, carbaryl and pyrethroids (e.g., bifenthrin).