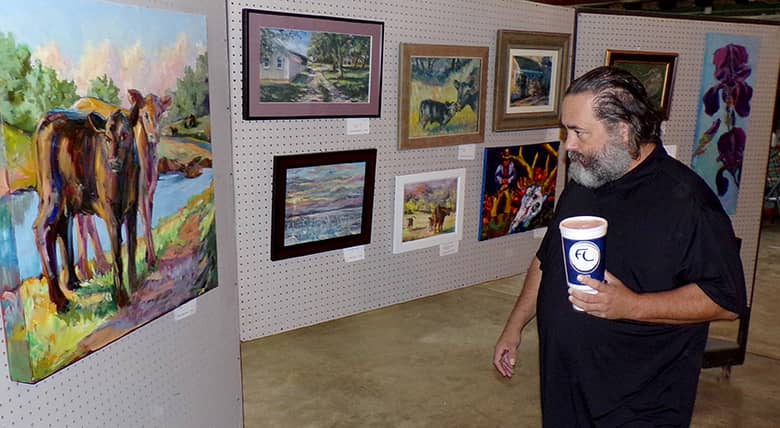 CLARKSVILLE, Mo. — Raintree Arts Council with support from the United Fund held its 46th Annual Art Exhibit and Judged Competition on Oc. 10 and 11 as part of the Clarksville Applefest.
Kim Foster Powell of St. Louis, president of Missouri Art Education Association and recently retired from Kirkwood High School, was the judge. She was awarded Secondary Educator of Year in 2019.
In the adult divisions, there were 152 pieces of art and in student section 249 pieces. Names were covered during judging. Student division entries came from Clopton schools, area homeschoolers, Louisiana Elementary, Louisiana Middle, Louisiana High and Logan private classes.
Winners were:
ADULT DIVISION BEST OF SHOW:
Cindy Logan, "Some Students I've Taught."
PROFESSIONAL:
1st: Brenda Beck Fisher, "Flying Scotties."
2nd: Dennis Babbitt, "Early Snow along Indian Creek."
3rd: Howard Kuo, "Pathway to Deer Creek High."
4th: Ann Miller Titus, "Things we Carry – A sense of direction."
Honorable Mentions: Dennis Babbitt, Brenda Beck Fisher, and John Stoeckley
AMATEUR:
1st: Marilyn Riley, "Sunny Window."
2nd: Bill Blakey, "Busch Farm."
3rd: Micaela Ayers, "Tuliperie Vase."
4th: Bill Blakey, "Nolan."
Honorable Mentions: Stacey Hoffman and Amanda Pendergrass.
PHOTOGRAPHY:
1st: Dan Borders, "Darwin Falls."
2nd: Connie Stepbens, "Old Red."
3rd: Charlie Cogar, "Bridge."
4th: Dan Borders, "Death Valley Dunes."
STUDENT DIVISION BEST OF SHOW OVERALL
Krimson Lee.
GRADES 11-12
1st: Tegan Carrington.
2nd: Tatum DePriest.
3rd: Mahala Sloan.
Honorable Mentions: Lindsay Weimer, Tatum DePriest, Hannah Snider.
GRADES 9-10
1st: Jordan Haynes.
2nd: Raegan Bowser.
3rd: Elaina Butler.
GRADES 6-8
1st: Seth Miller.
2nd: Lydia Dock.
3rd: Jayaya Ries.
Honorable Mentions: Savannah Tucker and Bobbi Jo Kaismann.
GRADES 4-5
1st: Grace Branstetter.
2nd: Kaylyn Cash.
3rd: Peter Dock.
Honorable Mentions: Cadem Simmons and Madelynne Williams.
GRADES 2-3
1st: Ava Branstetter.
2nd: Hadley Moore.
3rd: Halle Sheppard.
Honorable Mentions: Karsyn Watts, Jerry MacLaughlin and Ava Branstetter.
GRADES K-1
1st: Grant Adams.
2nd: Jacob Fallert.
3rd: Daisy Stribling.
Honorable Mention: Parker Graham.