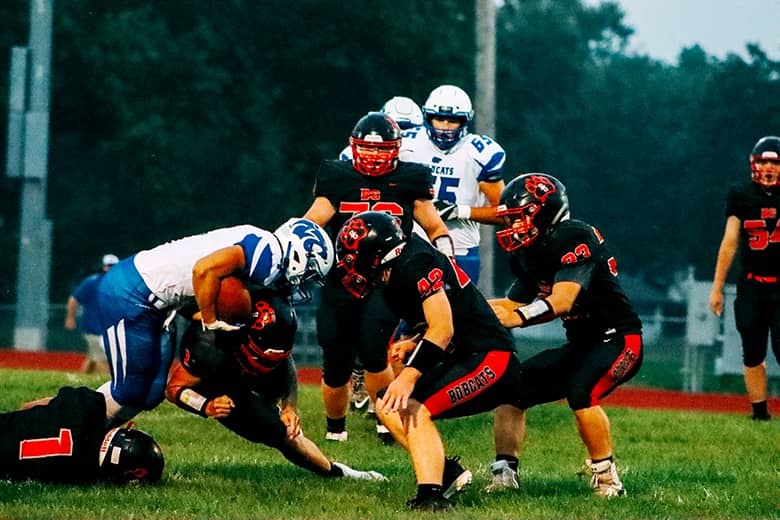 BOWLING GREEN, Mo. — The Bowling Green Bobcats defeated the Montgomery County Wildcats 56-32 on Friday night. The Bobcats got their first win of the season and Joe Chinn got his first win as Bowling Green's Head Coach.
Montgomery County scored first in the first four minutes of the game and failed to execute their chance at a 2 point-conversion to strong defense from Bowling Green. Following the touchdown, the Bobcat's Cooper Kiel, evened up the score with 90-yard kick-off return. Kiel etched his name into the Missouri High School record books as that was the 19th longest kickoff return for a touchdown. The first six minutes of the first quarter set the pace for much of the first half as the Bobcat's and Wildcat's battled tooth and nail to establish control of the game.
After a break at halftime, the Bobcats came out with restored energy and focus, establishing a lead and command of the game. In the last half of the game Bowling Green outscored Montgomery County 36-20. In the match-up, Bowling Green's sophomore quarterback Dylan Dalton has stats of a seasoned QB with 13 rushes for 219 yards, was 7-10 passing for 162 yards and three touchdowns.
Prior to the game Bowling Green honored their football, cheerleader, color guard, and band seniors. All athletes and organization members were escorted onto the track by family and cheered on by their teammates and classmates.
Bowling Green moves to 1-2 on the season and 1-0 in EMO conference play. The Bobcats will travel to battle the Wright City Wildcats next Friday in week four of football action. Reminder, you can always find a full recap of scores daily on the scoreboard page at kjfmradio.com and on the KJFM Radio App.