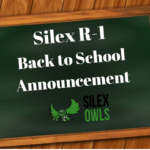 SILEX, Mo. — Silex R-I has announced their plan for the opening of the 2020-2021 school year beginning Tuesday, Aug. 25.
Superintendent Rod Hamlett released the following Tuesday afternoon…
Dear Parents and Community Members,
As we prepare for school reopening on August 25th, I wanted to update you on our plans and dates for reopening.
As you know, this year has been unlike any other.  It has now been 130 days since we have seen our students, and we are doing everything we can to ensure that they are safe upon our return in August.  In saying that, ensuring the safety of our students and staff is our #1 priority.  When our schools open this fall, they will look a little different. Every day it seems we learn more about COVID from our health officials and we know this virus is real. It continues to creep into our communities, and it may impact our schools. We also know the value of in-person learning and understand that being out of school for extended periods of time can have a detrimental impact on students' social and emotional well-being.
Over the past 3 months, we have been asking ourselves some big questions: How do we bring kids safely back to school? How do we make sure our staff is cared for? How do we prepare for short- and long-term closures that may be required as the Covid situation continues to evolve? As part of the planning process, we gathered feedback from families and staff about their preferred way to return to school in the fall. There was overwhelming support both from parents and from staff for a return to in-person instruction. The results concerning return to school were as follows:
Are you comfortable with your child returning to school in August?

Yes-78.5%
Not Sure Yet-17.1%
No-4.4%

Which scenario would you be most comfortable with upon returning to school?

In Person Learning-74.7%
A Blend of In Person and Virtual-16.5%
All Virtual-7.1%
Other-1.7%
That said, we realize not all families will be comfortable sending their student(s) back to the classroom just yet. With this, our administrative team has developed a Return to School Plan that respects and honors the individual needs of each family.
As parents and guardians, you have the ability to choose the right learning method for your child(ren):
OPTION 1: In-Person Classroom Learning with added precautions and safety protocols designed to limit exposure and transmission of Covid
OPTION 2: 100% Virtual Learning, delivered by the Launch online virtual program or Silex R-I teachers.  The same grading and accountability standards expected in the classroom will be used for online learning.
If you feel that Option 1 is the best option for you child, then there is nothing that you need to do.  If you feel that option 2 is best for your child, then please contact your child's principal for more information.  You may contact Mrs. Harris, elementary principal at gharris@silex.k12.mo.us or Mr. Gray, middle and high school principal, at cgray@silex.k12.mo.us.  If option 2 is you choice, then we are asking you to contact your child's principal by August 3 so we can begin preparations for your child.   This date is important as it allows teachers and administrators to appropriately plan for classes, bus routes, technology needs, and all the other behind-the-scenes work required to provide a quality educational experience.
As we move towards August 25th, please understand that this is a very fluid situation, and anything can change between now and then.  While it is our hope that we will begin the year with in person learning, we are also planning for blended learning and virtual learning as a plan B and C as well.  We will be prepared no matter what is thrown at us over the next 5 weeks but ultimately, the safety of our students and staff will drive every decision that we make.  As of now, our back to school plan will look as follows:
https://docs.google.com/document/d/1jDJUNa1nxvb1Obbb0uqetbPka10MS7P2zMXWohJgOnw/edit?usp=sharing
Please be aware of upcoming events that are still planned to go on as usual:
New Student Enrollment Dates:  August 4 and 5.  Times:  9:00-3:00
Freshman Orientation:  August 13 Times:  4:00 pm for new students and 5:30 for returning 9th
School Wide Open House:  August 20.  Times are yet to be determined.
I want to acknowledge the work of the administrative team, educators, and health experts who have spent long hours discussing the tough questions and planning for what-ifs. I am also grateful to our families and community for your patience and understanding as we work together through this unprecedented planning and preparation challenge.
Sincerely,
Rod Hamlett