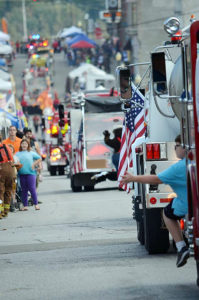 LOUISIANA, Mo. —  Citing concerns over COVID-19 and the ongoing infrastructure work in the downtown, the Louisiana Chamber of Commerce announced the cancellation of this year's Colorfest celebration.
Chamber President Layne Ebers told KJFM that it was a tough decision.
"There were multiple variables in play.  In the end, we knew that large gatherings aren't safe right now. Ultimately, we realized that holding Colorfest at all would likely result in huge crowds that would put the public's health at risk," Ebers remarked. "The Chamber Board is very confident Colorfest will go on next year. We're already making plans for it."
The festival had been moved to the first weekend of October, rather than the third weekend, for the first time this year. It had been hoped this would have the large event coincide with the Louisiana High School homecoming football game to kick off the weekend. This would have been the 36th anniversary of the fall festival. The first Colorfest was held in 1985.
In the announcement on Wednesday, July 8, the Chamber Board of Directors pointed out the ongoing construction in the downtown area has left limited space to hold an event the size of Colorfest, which draws thousands of people.
"The Chamber Board considered several options as well as the impact Colorfest has on our community," the Board announced in a press release. "Colorfest is a large public event that will bring together visitors and locals from all around which creates several concerns."
The board added that Colorfest requires support from the city.
"Understandably, the city does not want to be put in the position of holding such a large event like Colorfest at this time to help reduce the potential spread of COVID-19."
The Board noted that the health and safety of the community is the Chamber's first priority and that cancelling Colorfest was a difficult decision.
"Thank you all for your understanding and support during so much uncertainty and this trying time."
Tune to KJFM Radio for more on this and find more local news online at kjfmradio.com.